In my granny's time, having the best chicken salad at the church potluck was a social must to show all the others who the lord Himself would choose to dine with, if given the chance. The dish of choice for ladies luncheons and bridge clubs since the dawn of ladies luncheons and bridge clubs, chicken salad is an American classic. I've never been a fan of the overly mayoed, too much celery variety found at company picnics, however, so I think this classic could be improved upon by adding some new ingredients and flavors (to shake up those church ladies at the very least). The additions of shallots, curry, dried cherries, and pecans (to keep that crunch without the celery) make a salad I hope you'll enjoy–with crackers, corn chips, or as a sandwich–as much as I do.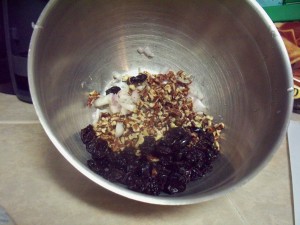 Cherry Pecan Curried Chicken Salad
–2 boneless skinless chicken breasts
–1/2 cup mayonnaise
–1/4 cup finely chopped shallots
–1/3 cup chopped pecans
–1/3 cup dried cherries
–2 TBSP tarragon
–1 TBSP lemon juice
–1/2 tsp ground black pepper
–TBSP curry powder
To poach the chicken, fill a pot with water and bring it to a boil over high heat. Add the chicken, cover the pot, and return it to a boil. Simmer the chicken for a few minutes before turning the heat off and letting it steep for 10-12 minutes. Transfer the chicken to a plate and let cool. [You can substitute with rotisserie chicken for different flavor, but make sure all the fat and skin is removed from the chicken before shredding.]


When the chicken is cool enough to handle, shred the chicken (using a fork) into bite-sized pieces. Combine all the ingredients listed above in a large bowl. Serve with crackers or corn tortilla chips or on a sandwich with lettuce and tomato.


Dammit Jim, I'm not a doctor…
Time: 30 minutes
Serves: 4
Calories: 286 per serving