It took a village to make this green chili. Almost literally. I believe no less than five people were involved in the making of this chili. Which was unnecessary, but decidedly more fun. Not surprisingly, cooking with friends is more fun that cooking alone. And cooking with friends who will help you make a roux when you're whining about how terrified you are to burn the flour? Even better. It's football season and fall is upon us, which my buddy John lovingly referred to the other day as "chili making time." So here ya go buddy, a green chili made with beer-braised pork butt. You're welcome.
This green chili, like any worth making, is made in a multi-part process. The recipe for the porter braised pork is modified from a recipe by Denver chef John Broening (Duo, Olivéa) and was originally published in the Denver Post some years back. It's the perfect base for a green chili (though I'm sure any pork made this way would taste delicious on it's own too).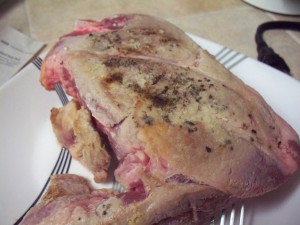 Beer Braised Pork Butt Green Chili
–TBSP salt
–TBSP ground pepper
–1/2 tsp Ancho chili powder
–1 pork butt or shoulder roast, 2-3 lbs.
–canola oil
–2 bottles porter (I like Deschutes Black Butte myself)
–6 cups chicken broth
–OPTIONAL: TBSP flour or cornstarch
–a heap of roasted hatch green chiles, diced (technical term, obviously)
The night before, mix together the salt, pepper, and chile powder and rub the pork all over. Cover and refrigerate the seasoned pork overnight.
When you're ready to commence chili-making, heat the oven to 300 degrees. Heat enough canola oil in dutch oven, oven proof pot, or large roasting pan to cover the bottom of the pan. Sear the pork on all sides to brown. Pour off any excess oil. Add the beer and chicken broth and bring to a simmer. Add the meat back to the pot. Cover and bake in the oven for 2-3 hours or until the pork easily pulls apart with a fork.

Remove the meat, skim the grease off the liquid and reduce the liquid. Because I was using frozen chiles (purchased online instead of on the side of the highway like a normal person would obviously do), I ended up making a roux with some flour to thicken mine. And by "I," I clearly mean someone else because of the aforementioned whining. Add the green chiles to the pot and stir to combine well. Pull the meat apart into small pieces. Add the meat into the pot. Let simmer 30 minutes before serving.