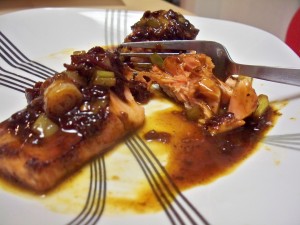 The BF doesn't eat the seafoods. It's not because he shares the adage of one of my Texas cousins (a man who refuses to "eat anything that might swim in its own poop). The BF just never got the taste of it. Seafood of any kind is a rather foreign sort of food for him. He'll try it, but he just can't seem to like it. And that's fine. But, what it means is that I don't eat fish, shellfish, or mollusks as much as I once did because I just don't cook them as much as I once did. But I can never give up the fruits de la mer.
This recipe has a spicy and smoky almost barbeque like quality. The recipe is lightly modified from one originally created by Cooking Light magazine for scallops. And it's tasty as hell. Enjoy!


Salmon in Adobo Citrus Glaze
–2 TBSP butter
–6-8 oz. salmon fillet (or two smaller fillets)
–paprika
–salt & pepper
–1 tangerine or clementine, cut in half
–1 chipotle chile in adobo sauce, minced
–4 green onions, sliced
TIP: Cook the fish skin-side up first and the skin will remove in one easy piece.
Melt 1 TBSP of the butter in large heavy skillet. Sprinkle the fillets with paprika, salt, and fresh cracked black pepper. Add the fish to the pan, skin-side up, and cook 3-4 minutes, depending on the thickness of the fillet before flipping the fillet(s) to begin to cook the other side.
Juice the fruit directly into the pan. Add the chile and bring to a boil. Add the remaining TBSP butter and the green onions. The sauce will thicken with the addition of the butter. Plate the salmon (if using one fillet, slice in half to create two servings) and spoon the remaining sauce in the pan over the salmon to serve.
Dammit Jim, I'm not a doctor…
Time: 15 minutes
Serves: 2
Calories: 300 per serving